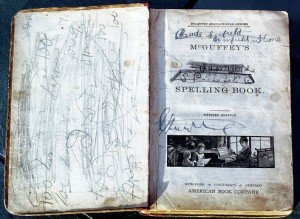 The popular TV show, Antiques Roadshow and their specialists have created confusion in the circle of us common people. We now think treasures are lurking in the attics and back corners of every home. This silliness is dependent on naivety and in general, hard times. The reality is that precious objects are precious because of their scarcity, demand and condition, not our ignorance.
As a bookbinder I see a lot of old books and invariably the person asks, "will it destroy the value of my book to have it restored?" Looking down at the book I see a binding in such disrepair that a book collector wouldn't have it for a doorstop. Sorry to say, but condition of any object is the most important factor in determining value. In answering the question I respond, "In this case it could only add value to the book."
Objects of value do find their way into my bindery, but most often my work involves saving an old family relic, such as: Grandma's cookbook, an 80 year olds' favorite childhood storybook, a family history, and other objects that define an individual's personal nostalgia. And, it gives me a great sense of honor to serve these clients in what some would consider menial tasks. What defines the highest value is not book market value, but individual's own memories.
So where are we now? The Antiques Roadshow is entertaining and has some reference to collectible items and their value. But, don't forget number 1, and that's YOU!