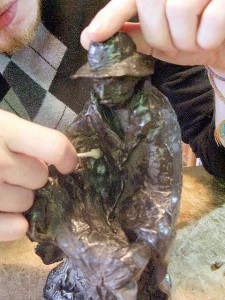 Max Marbles was trained as a conservator/bookbinder in England. Studying with Daphne Beaumont-Wright in Hampshire in the early 1980's, he learned the craft the old way, at the elbow of the master. Pip, as Daphne is affectionately known, studied and worked with William Mathews, who in his day was Europe's leading bookbinder.
The various crafts related to bookbinding are numerous and follow the tradition of centuries of craftsmanship and science. We preserve our heritage and customs because they serve best the passage of time. Many times in the restoration of an old binding one can see the work of others hundreds of years earlier and this fact inspires us to do our best.
Based in Salem, Oregon, Max Marbles/Bookbinder offers book, paper and fine art restoration to clients throughout the USA and abroad.
We concentrate on  a comprehensive, high quality service at competitive rates and provide a full range of conservation  and restoration services. These include work for individuals and institutions and may be an individual project or numerous and varied as might be the case in disaster recovery from fire or flood.
We would be pleased to assist you with any restoration and conservation question you might like to discuss.
Max Marbles/Bookbinder was established in 1977 and has been in its present location at Mission Mill Museum for 22 years.  Our site is spacious, well-lit and equipped with the tools and materials necessary to complete restorations in proper order.  Our site is alarmed and our security is excellent, including a large fire and waterproof safe.
For more information on our services please contact us from this website or from the information at the bottom of the page.