For the past 22 years, Max Marbles has been cleaning paintings at his location in the historic Mission Mill village. Assessing and treating works of art on canvas will see that your oil painting is cleaned and restored to a most satisfactory condition.
Tears, holes and peeling paint can be repaired with patching and relining. All restoration is done with reversibility in mind. The emphasis is to make the proper restoration with the least amount of invasion thus insuring the original fidelity of the painting.
Most often the cleaning of an oil painting will show an amazing rebirth of the artist's work. Taking away years of dirt and smoke will reveal many lost treasures in artist's detail and message.
We will make repairs to the original ornately gilded plaster on wood frames. By recasting and filling loss, to gilding and aging to match, your frame will light up the painting when restored.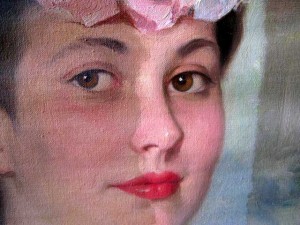 Cleaning Oil Painting Services
Flatten and re-stretch distended canvas
Patch, fill and repair painting of tears and areas of loss
Stabilize flaking sections of paint
Clean painting surface of dust, smoke and accretions
Fill loss of paint and in-paint area to match original
Reline painting where canvas is rotted or weak
Seal clean oil painting with varnish
Repair of gilded frames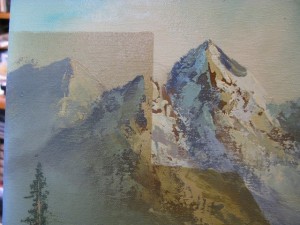 Frequently Asked Questions
What's involved in cleaning an oil painting?
What is relining with linen?
Is my oil painting too far gone?
How long will it take to clean my painting?
How much does it cost to clean a painting?
How do I mail the painting to you?
What's involved in cleaning an oil painting?
A painting has layers that need to be removed to the original oil paint of the artist. On the top surface is an accumulation of dirt, smoke and insect castings. Next is an aged and yellow coat of varnish. Finally, there is the oil paint. Testing and treatment these first two layers are lifted to reveal the true colors and look presented by the artist. Along the way some other treatments which
What is relining with linen?
Relining is when the old, weak canvas is backed to new canvas and bonded with a beeswax and resin compound. As with most processes the relining is reversible many generations into the future.
Is my oil painting too far gone?
Almost all oil painting can be salvage to some prudent, better and lasting condition. The effects of fire and water can cause the most damage, but time too takes its toll. Many paintings several hundred years old have been restored time and time again and are in very good condition. So, generally speaking, your painting is probably not too far gone.
How long will it take to clean my painting?
Most work that is taken on here is completed within 6 weeks. Upon receipt of the work the conservator will call and discuss these and other details with you.
How much does it cost to clean a painting?
Every painting is unique and to give a specific price would be impossible.  That said, most painting of normal sizes may run between $200 and $800 dollars. Even though the value of the painting may not justify the expense we find many clients are attached to their paintings for more reasons than money. Initial inquires may start with a set of jpg pictures sent via email to us. With a decision to restore, the process of safely mailing the painting will be explained by the conservator.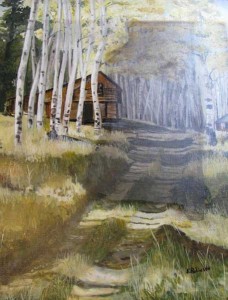 How do I mail the painting?
Remove the painting from its frame.
Place a cardboard cut to fit on the front and back of the painting.
Wrap with bubblewrap and tape securely.
Repeat step 2 and tape securely.
Place into a mailing box with ample packing peanuts to cushion the entire piece.
Ship to:  Max Marbles, 1313 Mill Street SE, Salem, OR, 97301
Call (503) 383-1857 or email us from our Contact page and tell us the painting is on its way.